I get so excited at this time every year i just love the Fall and Halloween time !! Crock pot dinners yummy desserts leaves falling dark at 6 pm and lighting a fire in my Fireplace and being with my family !! So i was on the computer today getting inspired for the Holidays to come and i seen all this great stuff at one of my favorite stores Williams Sonoma ! if you get a chance go to there website to get yourself inspired !
Williams Sonoma's bewitching little ginger-spice cookies in ghost, witch's hat and pumpkin shapes will charm trick-or-treaters. Prepared with fresh eggs, creamery butter and fragrant spices, each cookie is hand decorated with colorful icings. 6.3 oz. (approx. 30 assorted cookies). A Williams-Sonoma exclusive. $ 22.95
Williams Sonoma's kid-friendly kit makes it fun and easy to build an impressive haunted house decorated with an array of spine-tingling sweets. Young builders will find all the tools they need to create a masterpiece. A patented building tray provides a foolproof foundation for the house, which is easily constructed from sturdy precut cookie pieces and ready-to-use tubes of icing "glue." Each ginger-spice cookie piece is embossed with lines that highlight details and show kids exactly where to pipe decorative icings. Once the 8 1/2" x 12" x 9" house is built, kids will enjoy customizing their creation with a scary selection of candy decorations, from bats, pumpkins and ghosts to sprinkles. A Williams-Sonoma exclusive. and @ $ 19.95 it's a deal !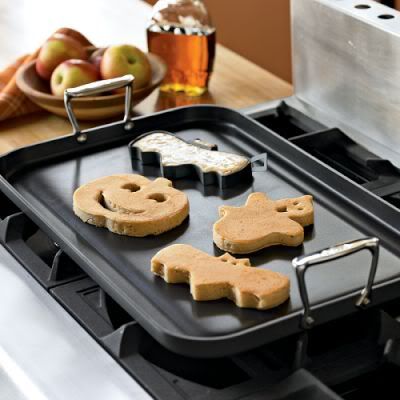 When Halloween pancakes are on the menu, no one is safe! Designed to create pancakes in the shapes of a jack-o'-lantern, ghost and bat, our molds couldn't be easier to use. Just place them with their handles up on a preheated griddle, then pour in your batter. After the first side has cooked, remove the molds and flip the pancakes. The molds are finished with a nonstick coating, so they're a snap to clean. The handles fold down for compact storage. Hand-wash. 4 1/2"–6 3/4" wide. Set of three, one of each design. @ $19.95 I have these and the kids love them so festive !!