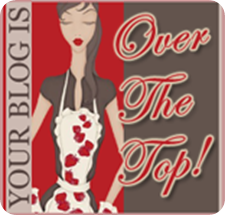 I've received another award thanks Jordiegirl for thinking so much of little old me (lol).
The rules are that I have to pass this on to 10 other bloggers and I have to answer the following questions with one word answers so here goes ( they are never one word answers LOL
1.Where is your phone? on The coffe table
2.Your hair? Up in a clip
3.Your Mother? Very crafty
4.Your Father? The Best
5.Your favourite food? Sushi "Beach Roll"
6.Your dream last night? Omg so crazy
7.Your favourite drink? Ice Tea
8.Your dream/goal? A trip to Paris !/ Make it happen
9.What room are you in? Living room
10.Your hobby? Cooking/Photography
11.Your fear? Death
12.Where do you want to be in six years? Hopefully on a wonderful vacation with my family
13.Where were you last night? At home
14.Something that you're not? Skinny (haha)
15.Muffins? cranberry
16.Wishlist item? A very pricey handbag !
17.Where did you grow up? La Mirada
18.Last thing you did? Order dinner
19.What are you wearing? My new slipper boots i love them in Hot Pink
20.Your TV? On Medium
21.Your pets? Sleeping on there pink bed
22.Friends? Amazing
23.Your life? Amazing Im very blessed ! Thank you god :)
24.Your mood? Happy
25.Missing someone? Not really
26.Vehicle? Fun !
27.Something you're not wearing? My Glasses
28.Your favourite store? Pottery barn & Micheals
29.Your Favourite colour? Red & Gold
30.When was the last time you laughed? Today
31.The last time you cried? Today watching Oprah
32.Your best friend? My husband
33.One place that I go to over and over? Starbucks
34.Facebook? slightly addicted
35.Favourite place to eat? Really anywhere with good food !
So here are 10 Blogs That should be checked out i include then in my daily reads ! I know i have left some out and im so sorry but i have another award coming soon :)
http://heartsnxj1.blogspot.com/
http://www.thetamom.com/
http://llama-tales.blogspot.com/
http://mrsofficer2u.blogspot.com/
http://www.headacheshormonesandhotflashes.com/
http://menonewmom.blogspot.com/
http://smellthecoffeelisa.blogspot.com/
http://thingsihavetoshare.blogspot.com/
http://adventuresofgingeyginge.blogspot.com/