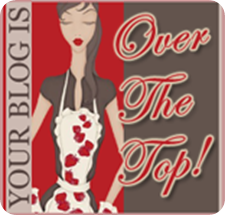 A big huge Thank You to Glama Ray over @ http://glamaray.blogspot.com/ for thinking of me for this great award if you have'nt yet go over to her blog and check it out she is great and always has such festive and amazing post's!
OK, now for the The Quiz:
1. you can only use ONE word! (that's not going to happen :( to hard one word !)
2. pass this along to 6 of your favorite bloggers (wow only 6 ! this is going to be hard)
3. alert them that you have given them this award!
4. have fun!
The Fun Part
1. Where is your cell phone? Table
2. Your hair? Cute
3. Your mother? Far
4. Your father? Wonderful
5. Your favorite food? Sushi
6. Your dream last night? Lost
7. Your favorite drink? Bellini
8. Your dream/goal? Culinary school
9. What room are you in? Den
10. Your hobby? Food Stylist
11. Your fear? Heights
12. Where do you want to be in 6 years? new York
13. Where were you last night? Home
14. Something that you aren't? Skinny (haha)
15. Muffins? Maybe
16. Wish list item ? Extreme wealth
17. Where did you grow up? California
18. Last thing you did? Drink ,my Coffee
19. What are you wearing? Black blazer,Dk purple Blouse,Dk jeans,Kinda cute today !
20. Your TV? American Justice
21. Your pets? 2 yorkies
22. Friends? :)
23. Your life? Extremely Blessed
24. Your mood? Joyful
25. Missing someone? My Dad ( he lives so far away )
26. Vehicle? Chrysler 300 & Yukon XL
27. Something you're not wearing? earings~i forgot opps!
28. Your favorite store? The Mall~ they have everything ! haha
29. Your favorite color? Red & Gold
30. When was the last time you laughed? this morning
31. Last time you cried? wow it's been awhile
32. Your best friend? Kammy
33. One place that I go to over and over? The grocery store
34. One person who emails me regularly? Family
35. Favorite place to eat? Joe's
I am giving this award to:
Blogs i stalk everyday they just keep me coming back for more ! Although this part was very tough and never want to leave anybody out i can only pick 6. I really wish it could be more !I really appreciate all the amazing comments i get from all.
http://llama-tales.blogspot.com/
http://blackandwhitesite.blogspot.com/
http://theplaygroundprincess.blogspot.com/
http://fabulousfunfinds.blogspot.com/
http://fuzzfood.blogspot.com/
http://www.redsolediary.com/
http://www.sassychica.com/
So lovely ladies this award is for you ! Thanks for all the great & amazing post's you do !