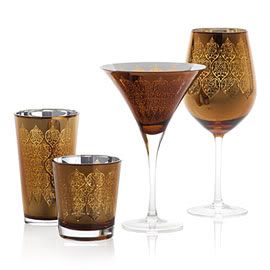 Puccini Glassware - Gold Set of 4
DOF $31.80
Hiball $35.80
Goblet $51.80
Martini $51.80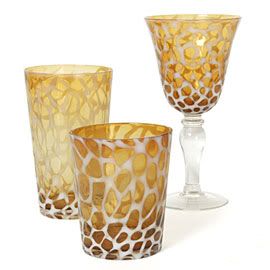 Giraffe Glassware - set of 4
Goblet - set of 4 $39.80
DOF - set of 4 $27.80
Highball - set of 4 $31.80
Beverage Napkins
Child Proofed $5.95
Lemon/Vodka $5.95
Anne Taintor High Maintenance $5.95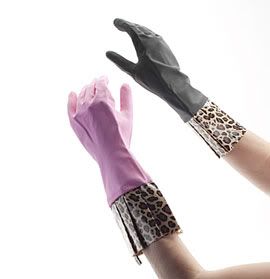 Gloveables - Pink and Black Leopard Gloves ( i have these's one's and i love them )
Pink $14.95
Black $14.95
Thalia Pillows
Cinnamon $49.95
Chocolate $49.95
White/Gold $49.95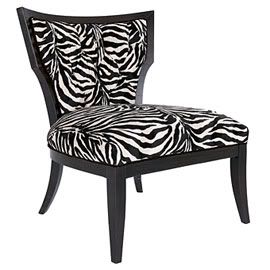 Zack Accent Chair
SKU# 010303669
Price $749.00
Upholstered accent chair, as shown in Zebra Taupe Brown. Hardwood frame stained in standard espresso finish. Additional fabrics.
Dimensions: 29''W x 31'''D x 36''H
So i am looking for this chair well not looking i know where it is (lol) but what i mean is that i think i can find it less pricey than $ 749.00 im on the hunt ! This would great in my den next to my desk area ! Will keep you posted when i find a deal on one !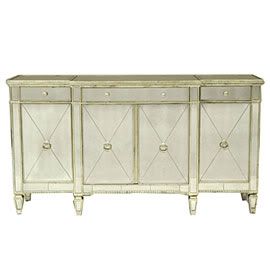 Borghese Buffet
SKU# 013301338
Price $1,099.00
Handworked antique mirrored glass over veneers and hardwood solids with antique silver finish. Side compartments have slots for adjustable shelves. Removable wine rack included. Some assembly required.
Dimensions: 20''D x 70''W x 38''H