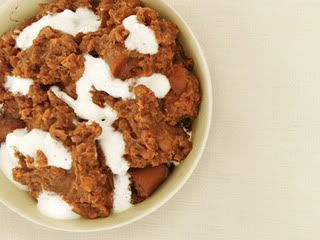 So i love that The Food Network finally has a magazine especially during the Holidays to give me all kinds of new things to try for the holidays and this is one i'll be trying on my table. It's a Sandra lee recipe and i cant wait to make it !
Canola oil cooking spray
2 29-ounce cans cut sweet potatoes, drained
1/2 cup pecans, finely chopped
6 tablespoons unsalted butter, cut into small pieces
2 tablespoons frozen orange juice concentrate, thawed
1/3 cup packed brown sugar
2 teaspoons pumpkin pie spice
1/4 teaspoon cayenne pepper
3 cups miniature marshmallows
Coat a 5-quart slow cooker with cooking spray. In a large bowl, stir together the sweet potatoes, pecans, butter and orange juice concentrate until combined. In a small bowl, stir together the brown sugar, pumpkin pie spice and cayenne pepper. Sprinkle over the sweet potato mixture and stir until combined. Spoon into the slow cooker.
Cover and cook on low for 2 to 3 hours.
Sprinkle the marshmallows over the top of the sweet potatoes in the slow cooker. Cover and cook on low for 15 more minutes, or until the marshmallows are melted