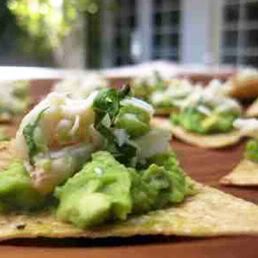 Ingredients~
3 Haas Avacado's
3 Limes juiced
1/4 cup of basil sliced thinly
about 1 cup of real lump Crab meat
Salt & Pepper
You will need 2 bowls in the first bowl add the Avacodo's juice of 2 of the limes salt & pepper to taste mix into chunky consistency.
In another bowl mix Crab, basil and the juice of 1 lime salt & pepper carefull not to break down the crab
On a platter arrange tortilla chips then add the Avacaodo mixture first the top with the crab mixture arrange some of the chopped basil on top ! then enjoy.