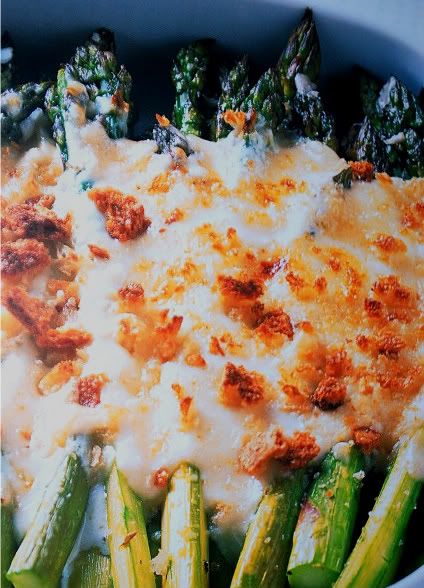 This recipe is amazing if you love Cheese & Asparagus this is a must try i make it for Easter and Thanksgiving ! it will impress your guess and they will ask for the recipe.
recipe is from the Nordstrom Friends & Family Cookbook ~which i love !
2 pounds Jumbo asparagus tough ends removed and lower half of each spear peeled
3 Tablespoons extra-virgin olive oil
Kosher salt
Freshly ground black pepper
1 Tablespoon lemon juice
1 Tablespoon unsalted butter
3 Garlic cloves crushed
2 Tablespoon minced shallots
2 Cups heavy (whipping cream)
3/4 cup freshly grated Parmesan cheese, preferably Parmigiano-Reggiano
2 Tablespoons unseasoned dried bread crumbs !!
First toss your asparagus in the olive oil and lemon juice and roast @ 450 for 12 minutes then remove from the oven and drain off excess oil !
Meanwhile, in a 2 quart saucepan over medium heat, melt butter add garlic and shallot and saute stirring constantly, until the shallot is translucent about 2 minutes. add cream and simmer uncovered until reduced by one third about 6 minutes. the stir in grated cheese and season with salt & pepper.
Arrange the asparagus in an oven proof serving dish and spoon the cheese mixture over the top add bread crumbs bake about 5 minutes until nicely browned then serve immediately !