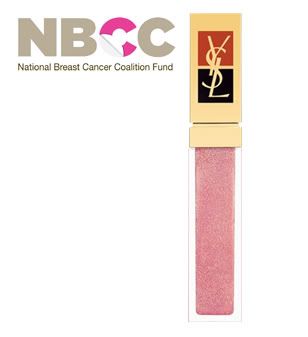 FYI:
YSL is proud to support the search for the cure. 30% of your purchase of Golden Gloss N° 27 will be contributed to the National Breast Cancer Coalition Fund through the end of October.
The National Breast Cancer Coalition Fund (NBCC Fund) is dedicated to ending breast cancer through the power of grassroots action and advocacy. NBCC Fund increases funding for breast cancer research; monitors how those funds are spent; expands access to quality health care for all; and ensures that trained advocates influence all decision making that impacts breast cancer. Visit the official website: www.stopbreastcancer.org
Dress your lips in a veil of shimmering gold with Golden Gloss. The gloss forms a mirror-effect on the lips which sparkles with mother-of-pearl. A complex of nourishing oils (Nigelle and Cameline Oils) protects the lips while providing total comfort. The magic and shimmer of gold* captured on the lips!
* contains 0,2% of 24 carats gold
N° 27
$ 28.00