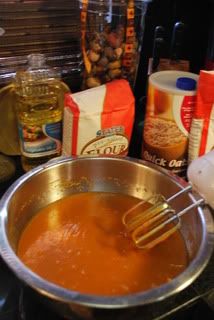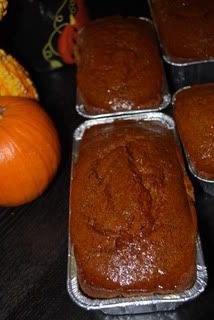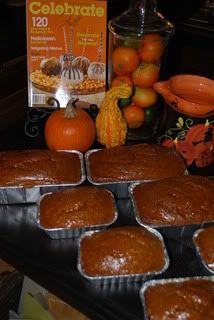 Pumpkin Bread
OK this recipe is one of the best pumpkin bread recipes you'll ever come across it was given to me over 24 years ago and i have been making it ever since !! (thank you to my sister in law Peggy).
3 Cups of Sugar
2 cups of can Pumpkin
4 eggs
1 cup of oil
3 1/2 cups flour (sifted)
2 tsp Cinnamon
1 1/2 tsp Salt
1 1/2 tsp Nutmeg
2 tsp baking soda dissolved in 2/3 cup of warm water
1 tsp vanilla
you can nuts if you like
Bake @ 350 for 1 hour
Beat Sugar, Eggs, Pumpkin oil and beat well ~ in a different bowl mix Dry ingredients together the shift add alternating with the wet ingredients and water mixture. pour into greased and floured pans (yes do this step ) the glaze is for the top when bread is done !
GLAZE
6 Tbs. brown sugar
3 Tbs. water
3 Tbs. Real butter
bring to boil and brush over hot bread !!
This recipe makes 2 to 3 loaves i always double it because i give some away ! so if you do double the glaze !!