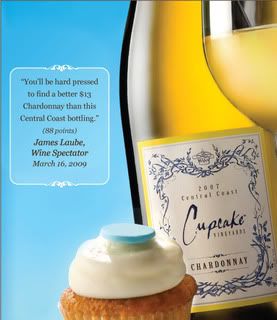 Cupcake Vineyards is a winery located in Monterey County, California where warm days give way to cool nights as the fog rolls in off of the Pacific Ocean. It's this cooling influence that slows the growing process, increasing the time the grapes "hang" on the vine and thereby allow our grapes to mature a little slower than in hotter regions. Slow growth and cool weather leads to a more balanced level of acids and sugars, thereby adding to the complexity and structure of the wines of the Central Coast. This region is poised to become one of the newest and most exciting viticultural opportunities in the coming years.

Tasting Notes:
Cupcake Chardonnay was crafted to emphasize the Central Coast's creamy and structured Chardonnay character. It starts off with a touch of apple, a hint of tropical fruits and is complimented by a balance of vanilla and spice. We used malolactic fermentation with aging in small barrels to provide a rich mid palate that develops into a long, smooth, satisfying finish. This wine pairs well with crab cakes, seared Ahi tuna on waffle crackers or fresh-baked French bread and cheese. $13.99 per bottle
My hubby was born and raised in Morgan Hill, Ca. Where there are Vineyards everywhere you look lucky him i dont think i would have ever moved if i lived there first the scenery is so beautiful and i love going back to visit! So this place might be on our list for our next visit !!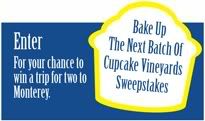 Enter for a chance to win a trip for 2 to The Monterey Winery.
The winner of the Bake Up The Next Batch Of Cupcake Vineyards will win travel and accommodations for him/herself and a guest, for 3 days and 2 nights in Monterey. They will meet Cupcake Vineyards winemaker, Adam Richardson, and help blend the next delicious batch of Cupcake Vineyards wines.
Contest ends 12/31/09 so hurry !!!